Grow Your Own Microgreens at Home!
Pick the Back To Natural Microgreens Kit that fits your needs.
All Kits include 2 growing pads, spray bottle, instructions and tips and enough seeds for 2 crops. You get to choose what you want to grow! Choose which seeds you want to plant, pick 2 different varieties or 2 of the same.
Seed Choices:
Arugula –
Purple stems and dark green leaves. Spicy arugula flavor.
---
Broccoli –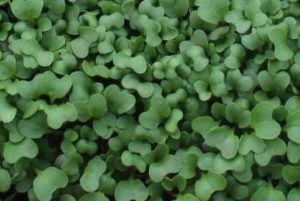 Green Stems and green leaves, sweet and tender.
---
Kale –
Dark green leaves, light green stems. Mild flavor.
---
Mild Microgreen Mix –
This mix of mildly flavored brassicas contains Mizuna, Cabbage, Kale, and Kohlrabi. Mostly green with a touch of red.
---
Spicy Microgreen Mix –
A colorful blend of red and green mustards with various textures. Spicy flavor pairs well with the Mild Micro Mix.
---
Radish –
Mildly spicy flavor. Dark purple stems and leaves. Improved dark purple variety. Lower percentage of green plants. Flavor is mildly spicy, not harsh.
---
---
---
---