Why Do We Need Supplements Even If We Eat Healthy?
Obviously I'm all about eating fresh, safe, healthy food. I've always enjoyed growing my own food, but after Kim was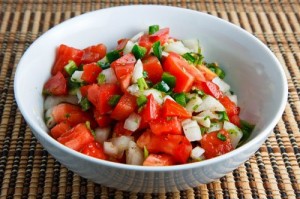 diagnosed with lymphoma 5 years ago, I've learned how to grow everything naturally. I don't use ANY chemicals and NO GMO seeds or plants because we've found out that chemical fertilizers, herbicides, pesticides and at least some GMO seeds and plants could be the cause of several US health problems. I've learned that I can grow better tasting vegetables that have more nutrients using all-natural growing practices.
Even if I ate as many vegetables as I could each and every day, there's no way I could meet my body's nutritional requirements.
How Important Is Proper Nutrition Anyway?
Your body contains trillions of cells. Billions of new cells are created every day. Each cell is like a high-performance engine. It needs high-quality raw materials (nutrients) to function properly. The quantity and quality of nutrients you ingest affects every system in your body: cardiovascular and digestive, muscular and skeletal, lymphatic and endocrine, reproductive, urinary, and even your nervous system. In other words, how you look, feel, and perform is directly affected by your daily nutrient intake.
Your body can't produce all the nutrients it needs on its own.
Scientists define a vitamin as a compound essential for life. And since your body cannot manufacture most of these vitamins on its own, they can come only from the food you eat and the supplements you take every day. Over the long term, proper nutrition impacts every aspect of your health – from its ability to maintain health to its role in preventing nutrition-related diseases such as heart disease and diabetes.
Many Major Diseases Can Be Prevented 60-90% Of The Time With Proper Nutrition And A Healthy Lifestyle!
Every day you make choices that will either improve your health or harm it. Studies show that if you don't eat right, get to a healthy weight, exercise regularly, and supplement your diet with proper nutrients, you increase your risk of developing certain diseases such as heart disease, cancer, and type 2 diabetes. Good health is a choice, which means that disease (in many cases) also is a choice.
Heart Disease: #1 Killer In The US
Every minute of every hour of every day, someone dies from a heart attack. According to the American Heart Association, 80% of all heart disease in women is preventable with proper nutrition and healthy lifestyle choices.
Cancer: #2 Killer In The US
Approximately one of every two adults (50%) will be diagnosed with cancer sometime during their life. The American Cancer Society reports that 60% of all cancer-related deaths can be prevented by improving lifestyle choices – being physically active, losing weight, stopping smoking, and getting proper nutrition.
Diabetes: The Illness Multiplyer
Diabetes contributes to more than 230,000 deaths every year. Plus, if you have diabetes, you are two to four times more likely to have a heart attack or stroke and 10 times more likely to have a limb  amputated; also, diabetes is the number one cause of kidney failure and blindness. A recent study published in the Archives of Internal Medicine suggests that 90% of all type 2 diabetes is preventable with proper nutrition, achieving a healthy weight, and engaging in other healthy lifestyle behaviors.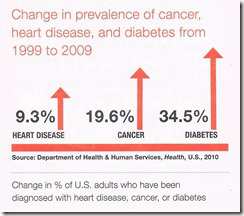 Overfed And Undernurished
Our S.A.D. Diet Is A Big, Fat Problem!
The Standard American Diet (S.A.D.) is causing a plethora of healthy challenges. Believe it or not, the United States ranks 37th in longevity (lifespan) behind countries such as Cuba, Chile, Costa Rica, and Greece, even with all of the medical technology and pharmaceutical innovations available today. A major consequence of our S.A.D. is the obesity epidemic, which affects even our children! In fact, the American Academy of Pediatrics issued a statement recently that suggests, unless current trends reverse, one-third of all children born today can expect a shorter life than their parents due to type 2 diabetes.
Our super-busy lifestyle drive us to make compromises of convenience with regard to what we eat, when we eat, and how much we eat. And many products that are marketed as "healthy" foods are filled with sugar, fat, and artificial ingredients.
Our foods are fast and our metabolisms are slow
Our drinks are soft and our arteries are hard
Our nerves are fried, and so is the junk we put into our bodies
Fast food sales have increased nearly 2,000% over the past 30 years. One-third of our total calories come from fast food, which is lacking in good nutrition. Not only does high-fat, high-carbohydrate fast food deliver a lot of colories, but the latest research shows that it also may result in acute inflammation. And consuming these high-fat, high-calories fast food meals regularly may lead to chronic inflammation, which may put you at risk for many diseases linked to inflammation, including heart disease, diabetes, arthritis, certain cancers, and Alzheimer's disease.
Eating Right Isn't As Easy As It Seems
98% of Americans do not eat the recommended seven to nine servings of fruits and vegetables each day. What might surprise you even more is that, even when you try to do the right thing, the nutritional value of our produce isn't what it used to be. In fact, a 2004 study of 43 crops showed a decline in the nutrient content of up to 38% over the past 50 years.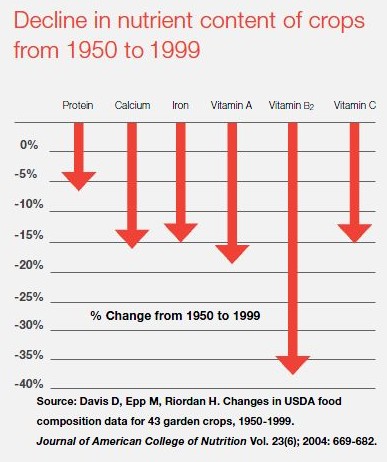 90% of Americans fall short in getting
essential nutrients in our diets
So, even if you're eating right, you still need additional supplements to improve your health and to protect yourself from possible disease in the future. To make sure you are as protected as you can be, you still need help getting the nutrients your body needs. So now what? How do you know which supplements to use, are they all the same?
Not All Supplements Are Created Equal!
When you try to figure which vitamins and supplements you should use, you need to look for some key indicators on whether or not they are good, high-quality supplements that will work or if they are full of fillers and other junk ingredients.
What To Look For
NO Artificial Sweeteners, Colors or Flavors

These ingredients work against your body. They cause inflammation and possibly other health concerns – exactly the opposite of what you're trying to do! Look for something all-natural.

Is It Clinically Proven To Work?

Look for clinical tests on the supplements you're looking at. Most of the time, if there has been any clinical testing done that has proven the supplement to be effective, the company will mention that on the label.

Have There Been Any Independent Studies Done?

Independent studies can make or break a company and it's product. An independent study is done by an outside agency (not the company itself) – meaning – whatever the independent agency finds when they test the supplement, that is what they publish in their report. So if the supplement is found to be good, they same it's good, but, if it is found to be lacking or not effective, they will publish that.

How Long Has The Company Been In Business?

You want to make sure that this is not another company trying to jump on the supplement bandwagon and just trying to cash in on people wanting to get healthy. Look for a company that has been in the vitamin/supplement business for a while and that has committed itself to improving your health.

Research. How Much Research & Testing Do They Do Each Year?

Look for a company that does lots of research and isn't afraid to tell you about it. The more research and testing they do, the more they know about what's going in to your vitamins and what you should expect to get out of them.

Advertising/Hype

The vitamins, supplements, weight loss products, etc. that you see commercials for on TV or hear on the radio every time you turn around, are there for a reason. They spend incredible amounts of money (tens of millions to hundreds of millions of dollars a year) to get your attention and create as much hype about their product as possible. Do you think if their product was as good as they say it is that they would have to tell you about it all the time? Advertising is fine, but word of mouth is much more reliable. Wouldn't it make you feel better for someone you know to tell you how well something has worked for them? If someone uses a product that really works for them, and they feel strongly enough to share that with you, that means a lot to me…it means that it must really work!
I have done all of this research and searching already, so if you'd like to know what my recommendation is, I'll tell you. I recommend the Shaklee Corporation. Shaklee does ALL of the things I listed above, plus some!
We were introduced to Shaklee Products 5 years ago when my wife was diagnosed with Stage 4 Non-Hodgkin's Lymphoma. She had always been the healthiest person I knew, she ate right, she exercised regularly, she took very good care of herself. Shaklee was recommended to us by Kim's Registered Dietitian (RD) as one of the few supplements that was safe to use and actually delivered what it promised.
ALL Shaklee Products Are 100% Natural

NO artificial ingredients, colors, sweeteners, flavors

Shaklee Products Are Clinically Proven To Work.

Shaklee goes through test after test to make sure their products do what they say they do. Here's a link to Shaklee's Clinical Results.

Landmark Study

The University of California – Berkeley did an independent study of people that used Shaklee Supplements compared to people that used no supplements or other brands of supplements and the people that used Shaklee supplements ranked higher in key areas than either of the other two groups of people. Here's a link to the Landmark Study.

Shaklee Has Been A Leader In Natural Nutrition Since 1956

Shaklee has been in business for almost 60 years, plus Dr. Shaklee invented the first multi-vitamin in the US in 1915!

That's why we are celebrating 100 Years of Innovation at Shaklee this year. 

Shaklee has always put quality first and we have always done everything possible to take care of the environment, Shaklee was

green

when green was just a color! 

Shaklee Spends A Quarter Of A

BILLION

Dollars Each Year On Research

Shaklee does hundreds of thousands of tests each year to ensure quality and effectiveness of our products as well as making sure all of the ingredients we use are pure to Shaklee specifications.

Shaklee Products Are Advertised By People Telling People

Shaklee does not pay to advertise on TV, Radio or any other media outlet. Shaklee products are sold by independent distributors that share Shaklee with people because they want to help others become healthier and live better lives. Shaklee has always used this form of sales, from the very beginning, Dr Shaklee did not want his products sitting on a shelf in a store, he wanted people to share with other people. He wanted it to be personal and for relationships to be built…to build a community.

100% Satisfaction Guarantee

If for any reason a Shaklee Product is not satisfactory, return it to your Shaklee Independent Distributor or Shaklee Corporation for exchange or full refund.If our products are not the best they can be — and the best you can buy — what else matters?

So if you don't experience the desired results from a Shaklee nutritional, personal care, or household product, you may return the unused portion for a 100% refund.

In addition to a money-back guarantee, we offer:

100% guarantee that the ingredients listed on the label are in the product
100% guarantee of quality-controlled product formulations that ensure product safety, purity, reliability, and product performance
100% guarantee that we use the finest quality ingredients available

Experience the Shaklee Difference for yourself. You deserve it!

Note: BestWater® and AirSource® units are covered by their own special appliance warranties rather than by the standard Shaklee guarantee.
Click The Link Below To View Shaklee Products