Growing Your Own Food Doesn't Have To Be Hard
It doesn't have to be difficult to grow your own food. Vegetable and grain plants are probably some of the easiest to grow and hardiest plants there are. You don't need to be some kind of master gardener or plant expert to grow vegetables.
You Don't Need To Spend Hours And Hours Taking Care Of Your Garden
Your garden doesn't have to take tons of hours of your time each week. A few hours here and there will be enough. That being said, if you spend zero time in your garden, the weeds will take over and your plants will suffer. Some plants like to be pruned and staked and no plants like to be choked out by weeds. So a little maintenance every week will be enough, but no maintenance will get you in trouble…then if you want to fix your overgrown garden it may take you several hours to get the weeds out and find your vegetables.
You Don't Have To Have The Latest And Greatest Tools And Equipment
Basic tools are enough to get you started in your garden. You don't need to go out and spend thousands of dollars on equipment to have your own garden. Some kind of a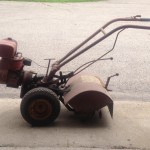 basic tiller would help, but beyond that you can use hoes, rakes, pruners and your hands and knees. This also depends on the size of your garden.
3 Basic Things For Your Garden
Sun – Vegetable plants need plenty of sun, so find a sunny location to put your garden.
Water – You will need to make sure your garden gets enough water. This may sound difficult to those of you that are beginners, but you shouldn't need to water your garden every day. After your plants are established you may not have to water at all, unless there is an extended period of hot, dry weather.
Cultivation – Keep the weeds under control. Your garden plants need all the nutrients they can get to produce the best vegetables they can, don't make them compete with weeds for nutrients and water.
Gardening Is As Hard As You Make It
You determine how much time and effort you put into your garden. It doesn't have to be perfect, but you do need to put some work into it.